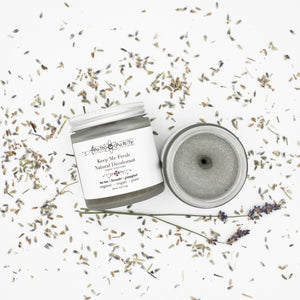 APOTHEPURITY
Natural Deodorant - Keep Me Fresh - Baking Soda Free
A natural deodorant that actually works? FINALLY! Is your natural deodorant leaving you In the pits midday? Are you tired of using conventional antiperspirants containing paraben/aluminum and other known carcinogens? Look no further. Our Keep Me Fresh Natural Deodorant has you covered! It is carefully formulated to draw out toxins and neutralize unpleasant odors without irritating delicate skin. Apply a dime size amount to clean dry skin to stay fresh and clean the natural way!
∆ Our Pure Ingredients:
Arrowroot Powder, Organic Jojoba Oil infused with Organic Lavender, Organic Calendula, and Organic Chamomile, Organic Unrefined Shea Butter, Organic Extra Virgin Coconut Oil, Bentonite Clay, Activated Charcoal, Organic Tea Tree EO, Organic Lavender EO, Organic Grapefruit EO, Non GMO Vitamin E
This product comes in a 4 oz plastic-free glass jar with a biodegradable label. 
Know what's in your products. Live Pure.
Our Brand Promises:
🌱 Fully Organic Ingredients
🐰 Leaping Bunny Certified Cruelty-Free
🌿 Zero Waste Initiative
🌟 Sound Formulations + Aromatherapy Advice From A Certified Aromatherapist + Herbalist
♻️ Fully Recyclable or Compostable Packaging
🧚🏼‍♀️ Woman Owned
🇺🇲 Made In The USA
📦 Free Shipping for orders $50+
New to natural deodorant? Read on: First and foremost, we are so happy you are considering making the switch. You are taking a major step towards a healthier you, and that's a great thing! Let us start by saying a natural deodorant is different than an antiperspirant. An antiperspirant actually clogs your pores and prevents you from releasing toxins as you normally do when you sweat. Why is this bad? It causes a toxic build up in your body and prevents your body from releasing toxins naturally, as it was made to do. A deodorant, lets you release those toxins without the unpleasant odor! Our formula helps to absorb sweat, while absorbing and releasing toxins/neutralizing odors. When you make the switch, you may notice you smell worse than usual. Many customers report that they noticed no difference at all and the switch was seamless, but everyone is different. IF you are still smelling during the first few weeks of use, give it time. Allow your body to rid itself of the toxic build up. One thing that can help is applying apple cider vinegar with a cotton ball to your underarm area and allowing it to sit for 5 minutes before showering. This helps to neutralize the ph and aids the detox process, helping you to smell fresh and clean quicker! We can't wait for you to make the switch!
Shipping:
We generally ship out once a week via USPS. Shipment can take 2-5 business days unless otherwise noted. You will receive tracking information via email upon shipment. Once in transit, transit times are usually 2-3 business days. Shipping is calculated by weight and is usually $5-$8 depending on the items selected. Orders over $50 always ship for FREE! No code needed. 
Returns:
Due to the nature of our goods we do not accept returns. However, we always want to make sure our customers are happy! If you are unsatisfied with your purchase, please contact us ASAP and we will do what we can to make it right.
---
Share this Product
---