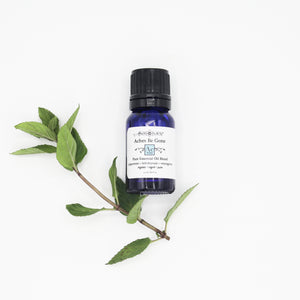 APOTHEPURITY
Aromatherapy - Aches Be Gone Essential Oil
Aches Be Gone Essential Oil can help ease minor aches and pains naturally. This fire and ice blend combines the best natural components historically known to help combat inflammation and provide relief the natural way. The fastest way to utilize the benefits of essential oils is through your olfactory system. Inhalation of essential oil provides the most direct route to the brain, then travels to the lungs, then to other parts of body. To use with your diffuser, add the number of drops suggested for your specific diffuser.
Our Pure Ingredients:
Organic GC/MS Tested Essential Oils of: Peppermint (Mentha piperita), Wintergreen (Gaultheria procumbens), Helichrysum (Helichrysum italicum), Clove (Syzygium aromaticum), and Black Pepper (Piper nigrum)
This product comes in a 10ml blue glass bottle with a euro dropper and compostable label. 
Our Brand Promises:
🌱 Fully Organic Ingredients
🐰 Leaping Bunny Certified Cruelty-Free
🌿 Zero Waste Initiative
🌟 Sound Formulations + Aromatherapy Advice From A Certified Aromatherapist + Herbalist
♻️ Fully Recyclable or Compostable Packaging
🧚🏼‍♀️ Woman Owned
🇺🇲 Made In The USA
📦 Free Shipping for orders $50+
Our essential oils are certified organic and GC/MS tested. Apothepurity products are expertly formulated by a certified aromatherapist. Please reach out if you have any essential oil questions or to request a custom formulation.
This blend is not recommended for use with children under ten or pregnant/breastfeeding women. This product is not meant to treat or cure any disease or ailment. 
---
Share this Product
---